[cliquer sur les photos pour les afficher en haute résolution / click on pictures to display them in high-res]



SÆomulçi∝ Gonn≥c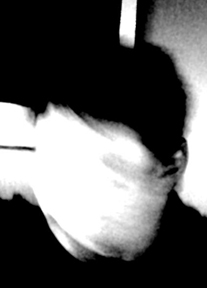 Pseudonyme de Jme Gugginø, fondateur d'Awkwardist Productions (1989-2012)
Créateur de "New Texts", dense, ILLITERATUR, ***CYBERDELIC***, infinite, neologistiks, Unwriting, etc./// (2009-2012)

Pseudonym of Jme Gugginø, founder of Awkwardist Productions (1989-2012)
Creator of "New Texts", dense, ILLITERATUR, ***CYBERDELIC***, infinite, neologistiks, Unwriting, etc./// (2009-2012)

www / @

crédits photo / picture credits : Jme Gugginø

M. Savant Stifleson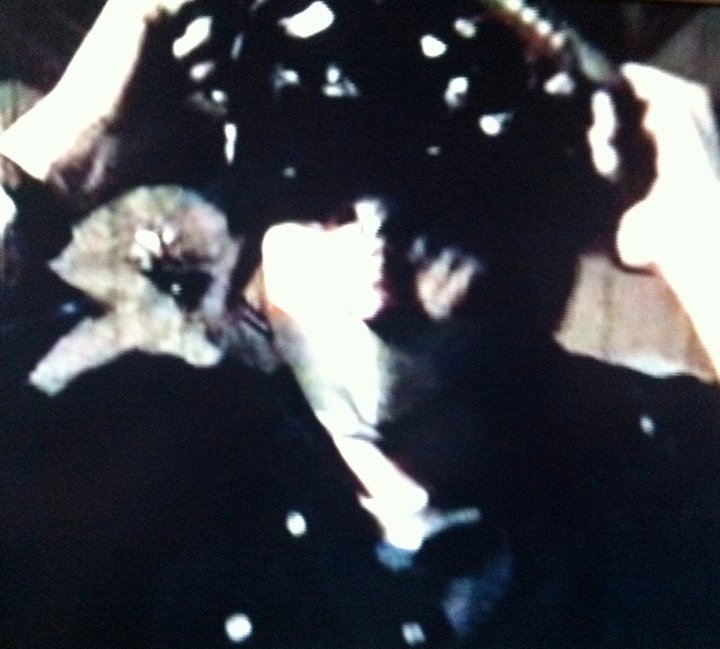 Projet musical actuel de Jme Gugginø.

Current musical project of Jme Gugginø.

www / FB

crédits photo / picture credits : Jme Gugginø

Méryl Marchetti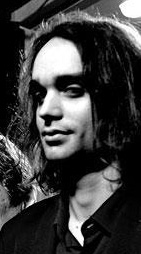 « Avec un micro troué, malgré l'intermittence des enceintes, la boue féconde.
L'impro poétique orale. Solo, duo, trio, big-band : tu me renvoies mes doutes, et j'ai à y faire.
Ca a commencé comme une erreur, à Uzeste avec Ducom, avec Lubat, les gojats qui venaient free. Les tout le monde. Entre nous un jeu où exagérer.
Alors pourquoi improviser, quand on écrit ? quand on "est écrivain", et pas musicien ? Parce que pour continuer l'improvisation, tu insistes l'inconnu, tu insistes tes faiblesses, tu insistes tes doutes. Dans l'impro tu ne peux pas "jouer à", par exemple "jouer à prendre des risques" : tu les prends.
Aujourd'hui, ça ne cesse de commencer. »
Méryl Marchetti is a french poet, whose field of predilection is improvisation : « So why improvising, when you write ? when one "is a writer", and no musician ? Because to keep on improvising, you play up the unknown, you play up your weaknesses, you play up your doubts. While improvising, you can not "play to", for instance "play to take risks" : you are taking them. »
@
crédits photo /
picture credits
: Dom Garcia
R3PLYc4N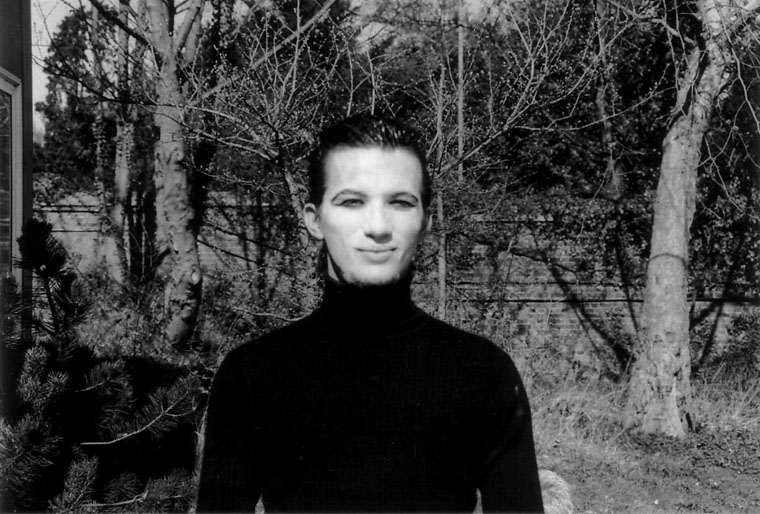 R3PLYc4N est la forme rock-électronique de
Mathias Richard
(voix,harmo,ordi). Ses morceaux sont disséminés un peu partout sur le Web. Il donne des concerts très incarnés, intenses ou catastrophiques selon les points de vue.
Pourri et mécanique, organique et synthétique, l'univers musical de R3PLYc4N semble surgir d'un ordinateur buggué, au bord de l'explosion, et il est traversé par une voix déséquilibrée, très grave, cherchant le cri et la bizarrerie, ou marmonnant des ritournelles...
Virtuose et maladroit, R3PLYc4N est dans l'esprit de rupture, la poésie et l'inventivité, plutôt que la technicité ou les normes de production en cours.
R3PLYc4N is the electro-rock embodiment of Mathias Richard (voice,harmonica,computer). His tracks are disseminated all over the Web. He gives very incarnate shows, either extreme or disastrous according to the mixed feelings of the audience.
Rotten and mechanical, organic and synthetic, R3PLYc4N musical universe seems arising from a bugged computer, on the edge of explosion, crossed by a disordered voice, very low-pitched, seeking screaming and weirdness, or mumbling jingles...
Virtuoso and clumsy, R3PLYc4N is into breakdown, poetry and creativity, instead of being into technicality or current production standards.
www
Flatline Skyline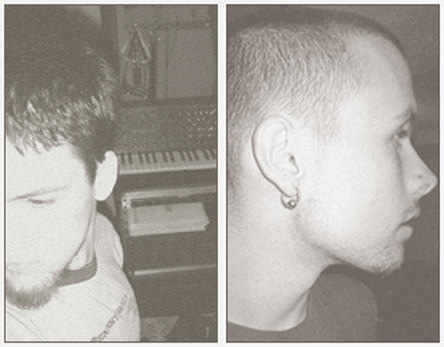 Flatline Skyline est R. Scott et J. Kemp. Leurs albums sont disponibles chez
Mechanoise Labs
.
Flatline Skyline is R. Scott and J. Kemp. Their full-length albums are available from Mechanoise Labs.
www
ElFuego Fatuo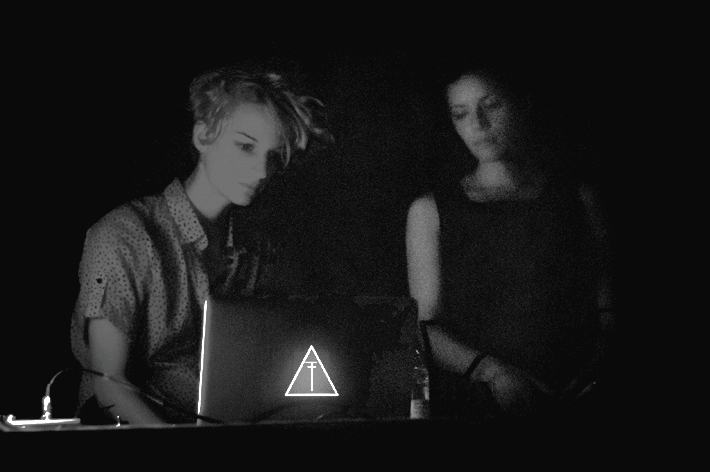 Le collectif poétique franco-espagnol ElFuego Fatuo est né à Barcelone en 2010, ses membres fondateurs sont Clara de Asís : compositrice et musicienne ; et Laura Vazquez : écrivain et poète. La recherche d'ElFuego Fatuo est principalement axée sur l'expérimentation sonore et visuelle. À travers différents supports et médias, le collectif interroge les liens du son et de la langue, afin de créer dans divers espaces, virtuels ou réels, un échange de perceptions et de sensations. Les créations ElFuego Fatuo mêlent les nouvelles technologies et la poésie contemporaine en utilisant le traitement vocal, sonore, numérique, multimédia, mais aussi performatif du texte poétique et des sons.
The french-spanish poetic collective ElFuego Fatuo was born in Barcelona, 2010. Its members are Clara de Asís (composition and music) and Laura Vazquez (writer and poet). ElFuego Fatuo is doing research in sound and visual experimentation mainly. Through various media, the collective questions the bonds between sound and language, with the purpose to create an exchange of perceptions and sensations in several spaces, virtual or real. The ElFuego Fatuo creations merge new technologies and contemporary poetry using speech, audio, digital, multimedia and and also performative processing of poetic texts and sounds.
www
crédits photo /
picture credits
: Guillermo Garcia
Mushin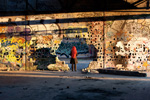 Cherche, devine, fabrique des formes. Des formes sonores, des formes hybrides, mais aussi des formes de transmission, d'organisation, des modes opératoires, des agencements nouveaux. Comme des bouts d'un monde à venir qui serait peut-être déjà là. Comme pour inventer des espaces, inventer un temps où les oreilles n'ont pas de murs. N'aime que ce qui laisse à désirer, comme la radio, qui, par les trous qu'on a dans la tête, distille un peu d'espoir de contrebande en des temps qui ne s'y prêtent pourtant pas.
Searching, sensing, shaping forms. Sound forms, hybrid forms, but also forms of communication, organization, procedures, new arrangements. Like pieces of a world to come, which might already be there. As to invent spaces, inventing a time where ears are wall-less. Likes desireless only, like radio, which, through holes we have in our heads, infuses a little smuggling hope in those hopeless times.
www
crédits photo /
picture credits
: Stefan Jourdan
Ichtyor Tides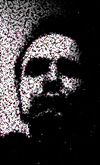 Ichtyor Tides est l'exutoire musical et le laboratoire sonore du poète et artiste multimedia Nikola Akileus. Le son d'Ichtyor Tides est un mélange expérimental de dark ambient, de glitch et de drone, de captations sonores et de lectures poétiques post-traitées, le tout étant parfois partiellement voire complètement submergé par des déferlantes noise.
Ichtyor Tides is the musical outlet and sound laboratory of the french poet and multimedia artist Nikola Akileus. The sound of Ichtyor Tides is an experimental blend of dark ambience, glitches & drones, processed field recordings and poetry readings, sometimes partially or completely submerged by noise assaults.
www
crédits photo /
picture credits
: n(cqls)²
Awkwardist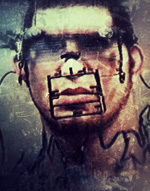 Projet électronique/glitch de Jme Gugginø
Glitch/Electronic project of Jme Gugginø.
@
crédits photo /
picture credits
: Jme Gugginø
Forakte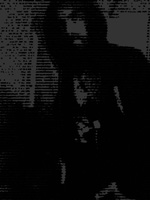 Ayant débuté comme une déclaration de guerre contre l'apathie de l'âge sombre (nommément l'hiver de disgrâce deux mille onze), Forakte est l'exutoire de son cerveau faisandé, enregistrant l'accouplement forcé de genres non-consentants. Le bras de fer du black métal écrasant son poing dans la face sans vie du blues gisant dans la boue d'une civilisation sur le déclin. Prolapsus douloureux du second opus "Hypermnésie" d'ici fin 2012.

Started as an assault against the dark age apathy (namely winter of disgrace, two thousand eleven), Forakte is its gamy brain outlet, recording the forced mating of reluctant styles. The black metal arm wrestling crushing its fist into the lifeless face of blues, recumbent in the mud of a downhill civilisation. Painful prolapse of second opus "Hypermnésie" in late 2012.

crédits photo / picture credits : Charlotte Virot
Sun Thief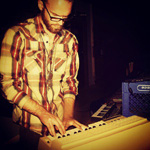 Sun Thief est le projet atmosphérique, drone et rituel d'Adam Wetterhan (de Columbus, Ohio, USA) explorant les espaces shamaniques grâce à des captations sonores, des instruments acoustiques et des couches de traitements électroniques. La musique ouvre des perspectives où l'organique et l'artificiel s'interpénètrent dans la recherche d'une alchimie entre le son et le lieu. Les oeuvres qui en résultent communiquent en formant un espace à travers l'humeur et la texture. Les 2 albums "Work of the Mind" (2010) et "Winds" (2011) son disponibles gratuitement sur
sunthief.bandcamp.com
et se situent à la collusion du drone, des captations sonores, des musiques industrielle, folk et glitch.
Sun Thief is the ritual drone and atmospheric project of Adam Wetterhan (Columbus, OH) exploring shamanic spaces through found sound, acoustic instruments, and layers of electronic treatments. The music opens vistas where the organic and the artificial interpenetrate one another seeking a seamless alchemy of sound and place. The resulting works communicate by forming space through mood and texture. The past two albums "Work of the Mind" (2010) and "Winds" (2011) are available at sunthief.bandcamp.com free of charge and can be found at the intersection of drone, found sound, industrial, folk, and glitch.
www
Thierry Théolier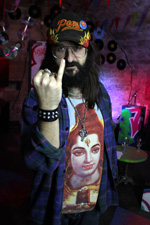 « On connait déjà Thierry Théolier, chevalier sans armure pourfendeur de la société du spectacle. Mais nous ne sommes pas dupes du cirque médiatique, qui le sacralise en combattant de l'establishment, en terroriste des clubs et des tendances, en parangon de l'anti tout et qui tente désespérément de le cantonner à un simple rôle de "gentil organisateur" rebelle post-adolescent. THTH comme il se fait aussi appeler est tout simplement vrai tout comme le sont ses textes, quasi organiques, vivant et souffrant dans leurs mots/maux. Il rejoint instinctivement la lignée traditionnelle des artistes du 20e, enfin ceux qui avaient envie de changer les rapports au monde et à l'autre, le "Cabaret Voltaire", St Germain. THTH s'y inscrit en tant qu'auteur rentre-dedans, dénonciateur avec son humour cynique. En filigrane ses tourments urbains transparaissent au travers d'une obsession, celle de la femme, mais une femme qu'il rêverait Sainte ou muse, immaculée, le "Dude" autobiographique, un Saint. Mais la réalité fout tout en l'air. La vie se répand dans la fange de l'illusion et l'Art se vautre dans le mensonge. Ecran blanc. Seul reste dès lors un iconoclasme salvateur. » Jean-Marc Scialom (label Nukod)
"We already know Thierry Théolier, armourless knight, slayer of the Spectacular Society. But the hype doesn't mystify us, it which glorifies him as an establishment fighter, as a club and trend terrorist, as an anti-everything paragon, and desperately tries to pin him as a rebel post-adolescent "cool M.C.". THTH, as he's also known as, simply is as true as his texts are, almost organically undergoing his own wording. He instinctively joins the traditional path of 20th century artists, i.e. those who intended to change the relationship to the world and to the other, "Cabaret Voltaire", St Germain. THTH belongs there as a straightforward writer, with his cynical denunciation. Woven into the filigree are his urban torments, visible through his obsession with the Woman, one he dreams as a saint or a muse, immaculate, the double of the autobiographic Dude, a saint himself. But reality spoils everything. Life drowns in the gutter of Illusion and Art wallows in Lie. White screen. There only remains a salutary iconoclasm." Jean-Marc Scialom (label Nukod)
www
crédits photo /
picture credits
: Harmonie Boidin